Discover Our Roots
Explore each chapter that traces our company's growth from our roots through the concentric tree rings of historical challenges and global expansion.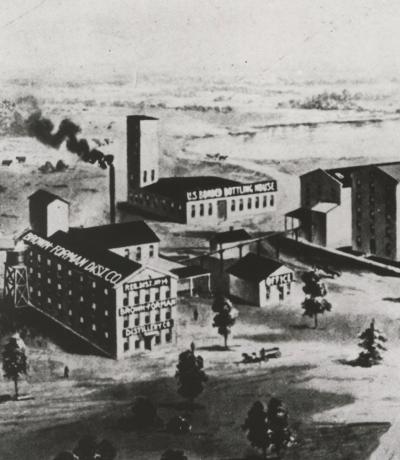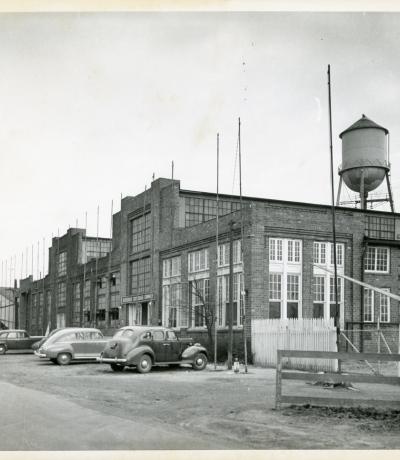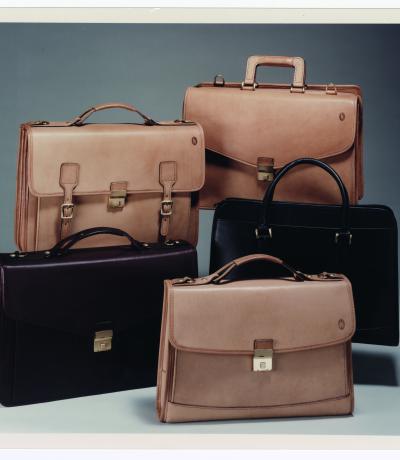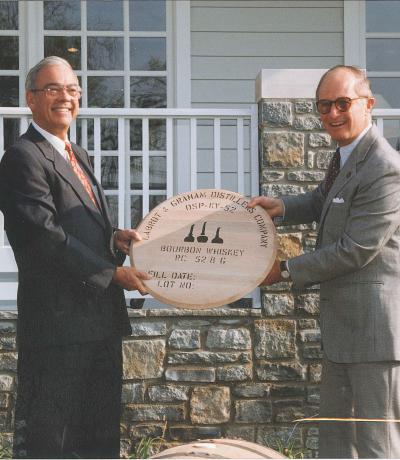 Founding and Early Years
1870 1920
Selling whiskey in a sealed glass bottle opened the doors to capturing quality spirits and laying down the foundation for production and distillation for generations to come.
1870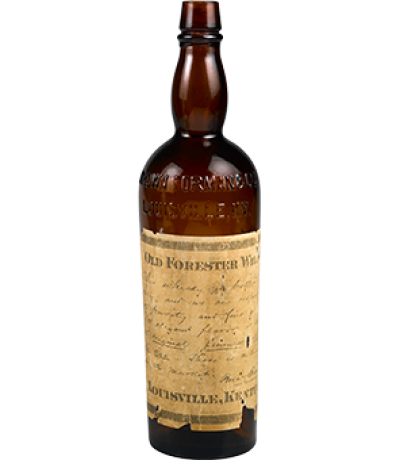 Founding
George Garvin Brown establishes J.T.S. Brown & Brother and becomes the first company to sell whiskey in a sealed glass bottle to consistently ensure quality. Following a series of other partnerships, in 1890, George Garvin Brown enters into a partnership with George Forman, his accountant and friend, establishing the company's Brown‑Forman name.
1901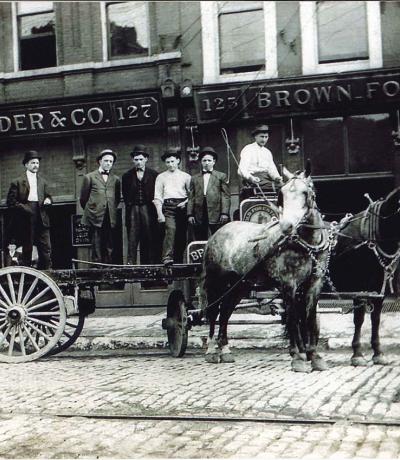 Founding and early years
Brown‑Forman is formally incorporated and the following year purchases one of its suppliers, the B.F. Mattingly Distillery, in St Mary's, Kentucky; establishing the Brown‑Forman Distillery Company, its first distilling operations.
1904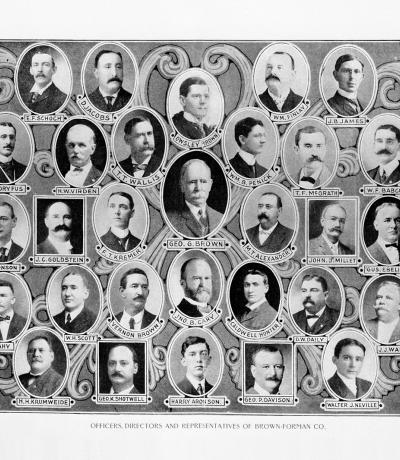 Family Ties
Owsley Brown, George Garvin's son, joins the business, establishing a tradition of direct family involvement and stewardship that remains strong today.
1911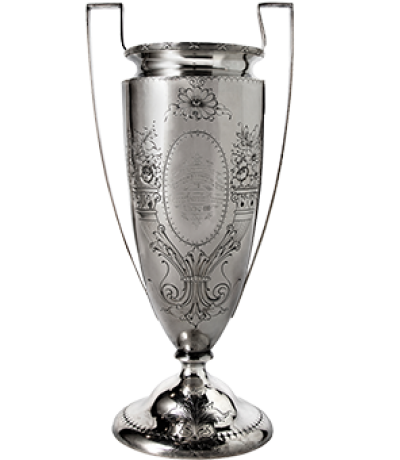 Establishing Our Values
A reputation for Integrity: The Integrity Cup was presented to George Garvin Brown by the Citizens National Bank in 1911 for paying security debts from which he had long been released.
Prohibition & (post) World Wars
1920 1960
While we faced many challenges during this timeframe, we also laid the ground work for our long term growth and success with the expansion our portfolio and purchase of Jack Daniel's.
1920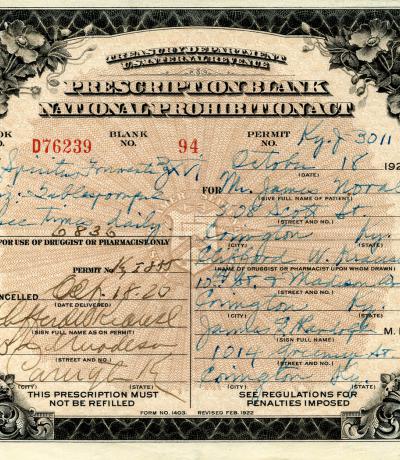 Prohibition
U.S. Prohibition (1920-1933) presents Brown‑Forman with its greatest challenge to date. Owsley Brown obtains a license to bottle whiskey for medicinal purposes, which keeps the company operational.
1924 - Brown‑Forman moves its whiskey stocks and headquarters to Louisville's West End through the purchase of the G. Lee Redmon company and its warehouses; establishing the current site of our corporate headquarters.
1929 - Brown‑Forman was one of only a handful of companies given permission to distill whiskey to replenish depleting medicinal whiskey stocks. As a result, Brown‑Forman is the only U.S. spirits company existing today that bottled, aged, and distilled whiskey before, during, and after Prohibition.
1933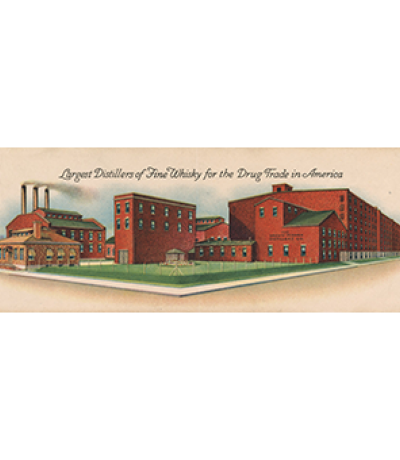 Prohibition Repealed
Brown‑Forman makes its first public stock issue allowing for a strong reentry to the American whiskey market. Owsley Brown brings his industry peers together to form an organization that outlines operating guidelines for the spirits industry, which would lead to industry practices such as public education on responsible alcohol use. It becomes the Distilled Spirits Council of the United States (DISCUS) in 1973.
1940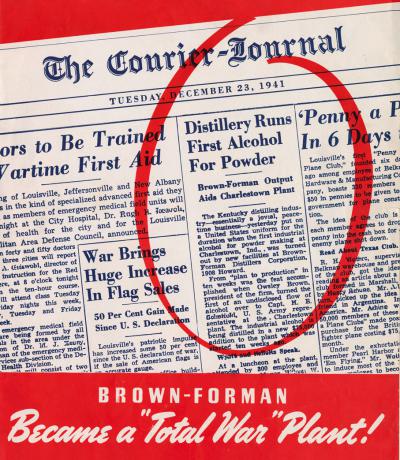 War effort
Brown‑Forman purchases Old Kentucky Distillery and the Labrot & Graham Distillery - one of the state's most historic distilling sites.
1941 - Within days of the attack on Pearl Harbor, Brown‑Forman delivers its first industrial alcohol for the war effort from a converted Old Forester plant, eventually converting all of its distilleries to producing only industrial alcohol for the remainder of the war.
1945 - Brown‑Forman purchases the Wood Mosaic Company, converting it into the Bluegrass Cooperage; now the Brown‑Forman Cooperage, giving it complete control over its barrel production.
1956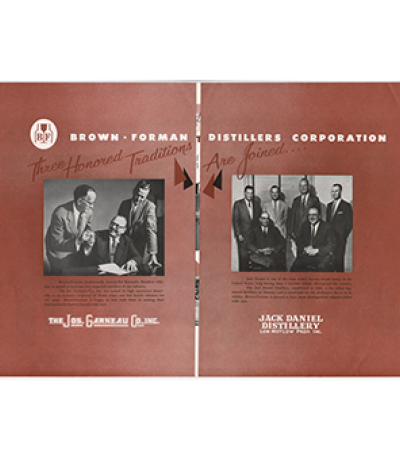 First Major Acquisitions
Brown‑Forman becomes an importer for the first time with the acquisition of the Jos. Garneau Co., Inc (a century-old New York import house), adding wines, liqueurs, and imported spirits to its portfolio and growing the number of Brown‑Forman brands from three to 37. In the same year, Brown‑Forman acquires Jack Daniel's with the purchase of the Jack Daniel Distillery in Lynchburg, Tennessee.
The Dark Age of Dark Spirits
1965 2000
When sales for brown spirits started to decline, Brown‑Forman diversified into product categories that were ripe for growth—consumer durables and popular-priced wines among them.
1965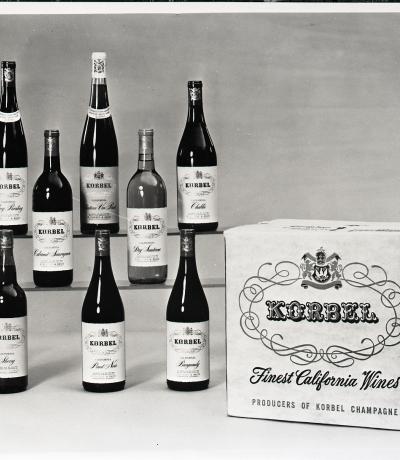 Key Brand Partnerships
Consumer trends were changing, and in an effort to continue growing, Brown‑Forman struck a partnership with Korbel California Champagne.
1971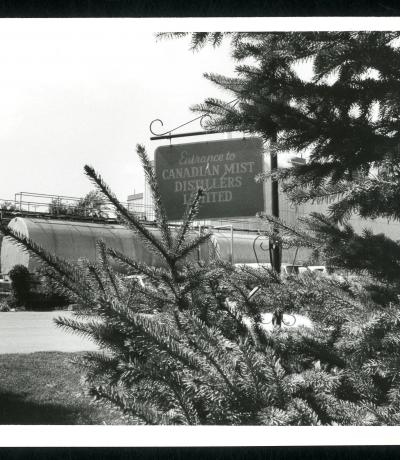 New frontiers
Brown‑Forman buys the Canadian Mist Distillery and brand, establishing its first major operation outside the U.S. (Sold in 2020).
1983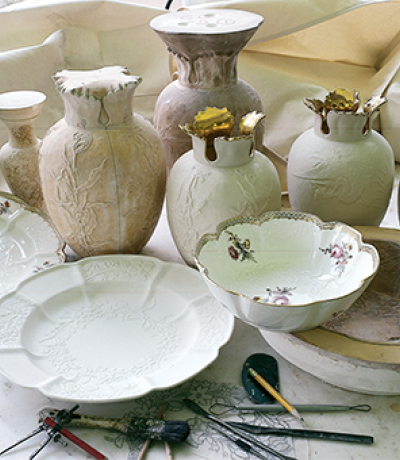 Dark age of dark spirits
Brown‑Forman diversified into product categories that were ripe for growth, including consumer durables. Lenox, Incorporated becomes part of Brown‑Forman, including Lenox china, crystal, and giftware, and Hartmann Luggage Company; sold in 2005 and 2007, respectively.
1991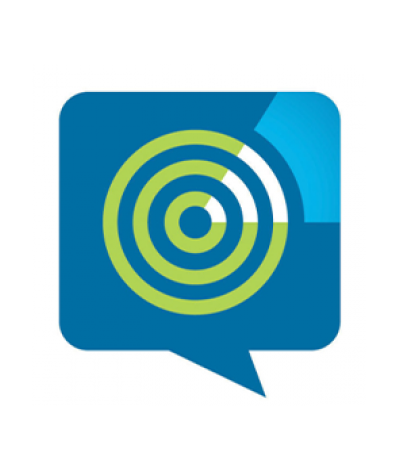 Commitment to Alcohol Responsibility
Brown‑Forman becomes the founding member of the Century Council, known today as the Foundation for Advancing Alcohol Responsibility (responsibility.org).
1992- Brown‑Forman acquires the popular-priced wines, Fetzer and Bonterra (sold in 2011) continuing the diversification of its portfolio.
1995 - Brown‑Forman joins global balance dialogue on alcohol issues as a member of International Center for Alcohol Policies; ICAP became the International Alliance for Responsible Drinking (IARD) in 2015.
1994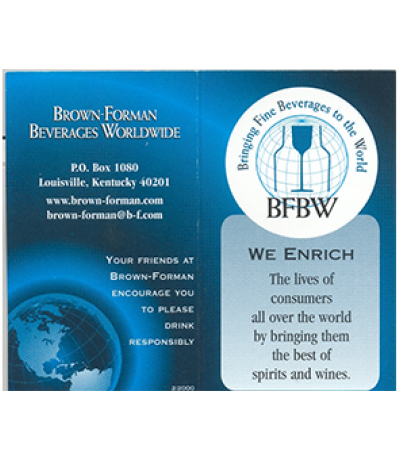 Expanding our Global Footprint
Formation of Brown‑Forman Beverages Worldwide sets the stage for the company's global expansion.
1996- Woodford Reserve launches at the site of the newly restored Labrot & Graham Distillery.
1999 - Brown‑Forman acquires Sonoma‑Cutrer Vineyards.
Global Growth & Endurance
2000 2022
Brown‑Forman stretches it's wingspan from production to environmental and social stewardship, reaching into new horizons and acquiring wine & spirits of all kinds across the globe.
2004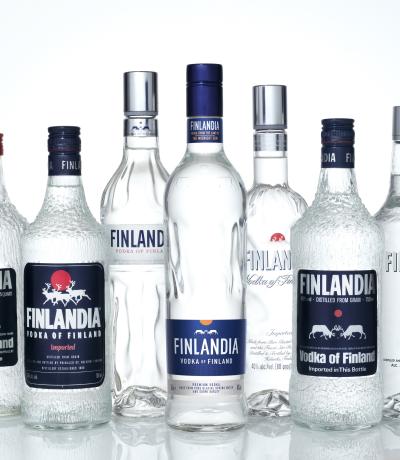 New Acquisitions
Finlandia - Brown‑Forman completes the full acquisition of Finlandia Vodka in 2004.
Casa Herradura- In 2007, Brown‑Forman purchases Casa Herradura, one of the oldest and largest producers of tequila in the world.
2007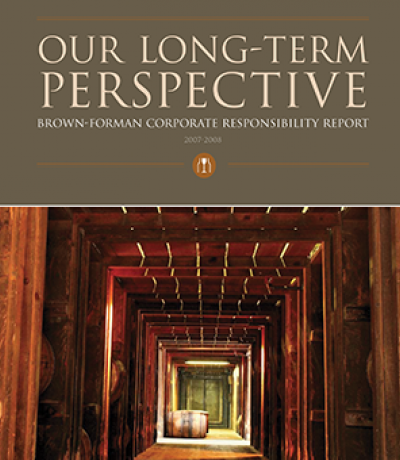 Our People and The Planet
Brown‑Forman Chairman's Conference on Sustainability leads to formation of the company's Corporate Responsibility strategy, later publishing its first Corporate Responsibility Report in 2007.
2007 - Brown‑Forman elevates diversity & inclusion and appoints its first chief diversity officer.
2009 - Employee Resource Groups were first established at Brown‑Forman.
2015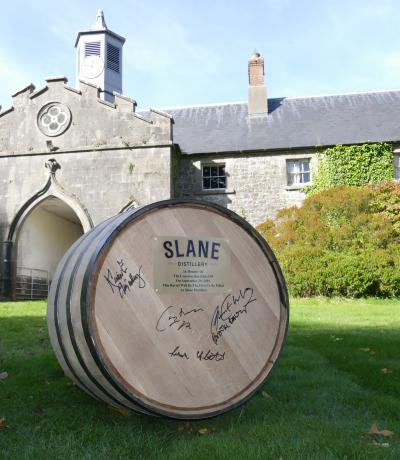 Premium Acquisitions
2015 - Brown‑Forman purchases Slane Castle Irish Whiskey Ltd.; introduces and opens the new distillery and homeplace experience on the historic estate in County Meath, Ireland, selling Slane Irish Whiskey globally in 2017.
2016 - Brown‑Forman acquires the Benriach Distillery Company and its three Scotch whisky brands, Benriach, The GlenDronach, and Glenglassaugh, marking its re-entry into the Scotch whisky category.
2019 - Brown‑Forman re-enters the gin category with the purchase of Fords Gin.
2020 - Brown‑Forman expands its RTD business with the acquisition of Part Time Rangers from New Zealand.
2020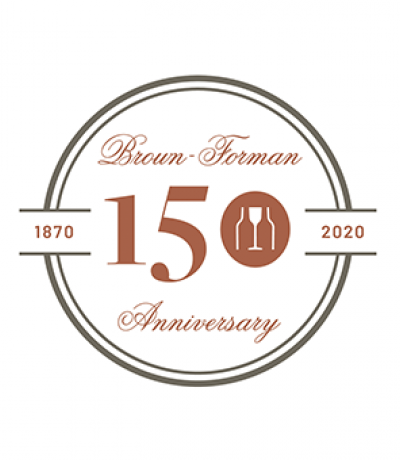 Resiliency
Brown‑Forman marked its 150-year anniversary during a year long to be remembered that included: a global pandemic, social unrest in the U.S., and rapidly changing market dynamics while still achieving financial results were nothing short of remarkable.
2022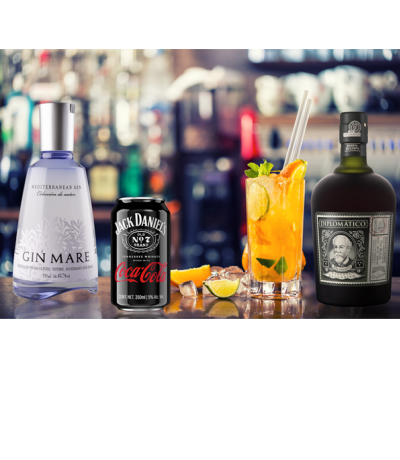 Bold Acquisitions and Bold Relationships
We announced two major acquisitions, adding Gin Mare and Diploḿatico to our brand portfolio. In a historic relationship with Coca-Cola we brought together two iconic brands in one can with the Jack Daniel's and Coca-Cola RTDs.